Referrer Spam Remover
Make your Google Analytics data more accurate and reliable by removing referrer spam.
No technical knowledge
required.
Updates automatically when new spam is detected.
What is referrer spam?
Referrer spam is caused by bots that create fake traffic and referrer data, making your Google Analytics inaccurate.
You may have seen it in your Google Analytics like below: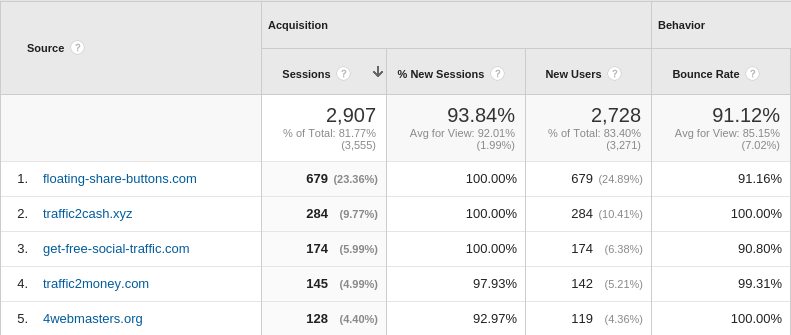 Because these hits are not from actual visitors and just spam bots, your data becomes inaccurate and unreliable.
---
How does the Referrer Spam Blocker work?
Referrer Spam Remover uses the Google Analytics API to automatically install filters for future data and segments for current data. Simply login, select your websites, and click apply.
Whenever PaveAI detects new referrer spam, we add a new filter to the views so your data is always clean and accurate.
About PaveAI
PaveAI uses A.I. to analyze your Google Analytics + marketing data, and sends a report on what's working, what's not, and how to improve.
We created this free tool because we've seen how annoying referrer spam is and want to make it as easy as possible for everyone to fight spam.